Brief Description
The glue is continuous, uniform and stable coating the surface of the paper after emulsification, After a series of physical role like infiltration, penetration, extrusion, the surface of paper will form a layer of waterproof layer, a substantial increase in anti-absorbent . at the same time in The role of the glue, the combination of strength and tightness of paper between fibers is improved.
Lab calendar .Rubberizing and fractioning of textile material, rubberizing of wire-cord fabric, sheet, and counter plate(embossed) of rubber material, separation of fabric and film, as well as joint of multi-layer laminate film.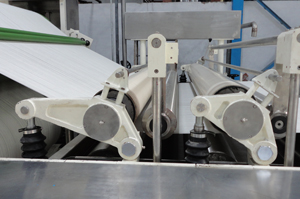 M
achine Features
1.Tailored structure, easy to operate and install.
2. There are many speeds and speed ratios available, which can satisfy most customers formula and technique requirements.
3. Frame and base., looking very nice, are welded and treated by annealing for stress relieving.
4. The speed reducer is the hard-tooth surface gear reducer of Class 6 precision, which has long service life and low noise.
5. Perfect emergency stop device can ensure the safety of person and equipment
6. The seal structure with special design can eliminate the leaking phenomenon of lubricating oil
Advantages
1.This type of machine adopts the most advanced control system in the world and nine-unit gearing has realized the high intelligence, speed, efficiency and high precision control, as well as increased the matching capacity of sizing machine.
2. This machine adopts the most advanced technological process in the world, and humanized design, which is easy to operate and maintain.
3.High Intelligence: Adopting expert systems that when operators input various parameter into computer, the system will automatically control the machine to work, Knowing the machine working state on computer, the fault diagnosis, remote monitoring and diagnosis can be carried out easily.
4.High precision: Adopting "Profibus" communications protocol to do data exchange and detection & controlling, as well as Servo frequency converter & variable frequency motor nine-unit driving, both the designs make the machine rapid response, high precision, good stability.
5.High quality: high power 74kw driving design, linear pressure 40kn, dry capacity 1000kh/h, exhaust system 24000m3/h, speed 125m/min
6.Low energy-consumption: flexible frequency control system makes low cost, PID high precision control of temperature and moisture regain can save energy when dry yarn, linear high pressure model makes sizing stable, which can save sizing agent.